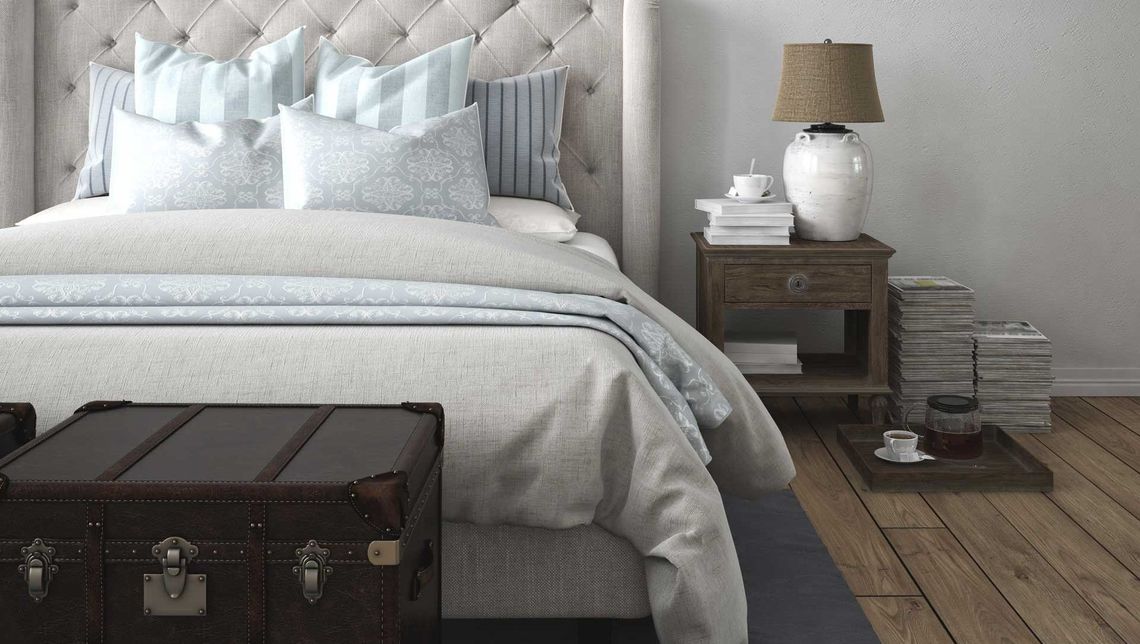 27/04/2022 0 Comments
Choosing the right Bedroom Flooring
Creating the perfect sleeping environment is a challenge even for the most experienced interior designer.
There are many variables to consider, including the best type of lighting, the right furniture and, of course, selecting the right bed. However, one of the more challenging and yet sometimes overlooked aspects of creating the best bedroom possible is the flooring. There are a plethora of flooring options to consider when selecting the right flooring for your bedroom.
From carpets to luxury vinyl tiles to wood flooring options, selecting the floor is a challenge in itself.
In today's blog, we will discuss the various bedroom flooring options in greater detail.
Carpets
Let's start with the traditional choice. Carpets remain popular in bedrooms all over Ireland. What's more, there are a tremendous amount of carpet colours, patterns designs and materials to choose from. Unlike carpets and used in other spaces like corridors and living rooms, bedroom carpets don't have to be as hard-wearing as they'll likely deal with much less foot traffic. Therefore a homeowner can choose a carpet based on softness and feel and be less concerned about overall durability. This means homeowners can choose to select a luxurious carpet like a Saxony or go for a more deep pile carpet that feels great under bare feet. Another massive advantage of a bedroom carpet is you can go for a paler colour than you would use elsewhere. For the particularly adventurous, you can even select a cream carpet which will give any room an elegant and luxurious look. Just remember, if you're going down this path, make sure it's an adults-only, shoes-off bedroom.
We have a large collection of available carpets in our carpet store, some of which are particularly suitable for bedrooms. For information on our range of carpets, please get in touch with us today.
Wood Flooring Carpets
Perhaps less common than carpets are solid wood floors in a bedroom. Wood floors, in many instances, are mistakenly considered a little bit cold for a sleeping space. However, a darker wood shade can create an inviting and comfortable ambience inside a bedroom. Also, when pairing a wood floor with a tastefully selected rug, you can create a real sense of style. A rug will also remove that cold feeling bare feet get on the wood. More generally, solid wood floors are both durable and look extremely attractive.
Luxury Vinyl Flooring
Luxury Vinyl Flooring is a somewhat more modern choice for a bedroom. A luxury vinyl floor offers a range of options. There are LVF floors that look like natural materials like solid wood or stone. Luxury vinyl flooring allows your creativity to run away with itself. Within a bedroom, luxury vinyl creates a conducive space for sleeping. As a material, vinyl is also highly durable, easy to install and available in various prices to suit your unique budget. Luxury vinyl tiles have become an increasingly popular bedroom choice in recent years.
Still not sure what the right flooring option is for your bedroom. Please call into our store or give us a call today. Our friendly experts can advise you on the right flooring for your interior design requirements and your available budget. When you need Dublin flooring options for your bedroom contact the experts today.
Feed